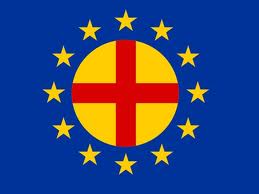 INTERNATIONAL CONFERENCE
MULTIIDIIMENSIIONALIITY OF EUROPEAN FOREIIGN POLIICY
21–23/2/2014
Ljjublljjana, SLOVENIA
FRIDAY, 21/2/2014
14:00 – 16:00 Registration of participants
16:00 – 17:30 EU Foreign Policy: Legal Basis and Constitutional Practice
18:00 Opening of the conference
19:30 Reception at the City Municipality of Ljubljana
SATURDAY, 22/2/2014
9:00 – 9:15 Opening speech
9:15 – 10:45 EU Foreign Policy: new security challenges
10:45 – 11:00 Coffee Break
11:00 – 12:30 EU Foreign Policy: economic diplomacy
12:30-14:30 Lunch
14:30 – 16:00 EU Foreign Policy: a geopolitical approach
16:00 – 16:15 Coffee break
16:15 – 17:45 EU Foreign Policy: European Parliament and EU citizens
18:00 Dinner
SUNDAY, 23/2/2014
10:00 – 11:30 EU Foreign Policy: cooperation with national diplomacy
The conference is part of the project entitled "European Citizens for the European Foreign Policy", which is supported by the Europe for CitizensProgramme of the European Union.
Project partners:
Paneuropabewegung Österreich (Austria)
Paneuropska unija Bosne i Hercegovine (Bosnia and Herzegovina)
Association Paneuropean Movement (Bulgaria)
Hrvatska Paneuropska Unija (Croatia)
Paneuropa-Jugend Deutschland e.V. (Germany)
Kulturna Ustanova Josip Pangerc (Italy)
Paneurópska únia na Slovensku (Slovakia)
Društvo Evro-atlantski svet Slovenije (Slovenia)
Evro-Mediteranska Univerza – EMUNI (Slovenia)
Mladinski svet Ljubljane (Slovenia)
Študentsko društvo Slovenska akademska unija (Slovenia)
Comité Español por la Unión Paneuropea (Spain)
The conference in Ljubljana is organised under the auspices
of the Ministry of Foreign Affairs of the Republic of Slovenia.